Welcome! The Office of Information Technology (IT) has been busy preparing for new and returning faculty and students. Below are some of the enhancements, with links to important sites and informative TECHNews articles, that we completed after the Fall Semester 2013.
What's New
SAP Unicode Upgrade
The SAP Unicode upgrade was completed on December 24, 2013,  well ahead of schedule.  Moving to the well-known Unicode standard gives us the ability to support a richer set of characters allowing more flexibility in interfacing with other software applications. Additionally, Unicode is required for future options, such as using SAP's in-memory HANA platform.  Thanks to IT staff for their great work, especially Carol Cockayne.
Blackboard Learn SP13
Blackboard Learn has been upgraded to the latest stable release (SP13).  This effort included an operating system (OS) upgrade on all Blackboard servers as well as a move to Oracle Automatic Storage Management (ASM) for enhanced storage for the Blackboard databases.  Learn more about the new functionality including calendar enhancements and new features like video anywhere, inline assignment grading, and notification services.  A special thanks goes to Suzette Henry, Penny Rice and Amelia Robbins for the heavy lifting over the holidays.
Ongoing Campus Network Enhancements
Our IT Network and Systems Analysts have been diligently working behind the scenes as we continue the campus network infrastructure upgrade.  In late 2013, IT Networking Analysts completed network infrastructure improvements in the Library.  This enhanced coverage permitted 10,152 total users to connect to UM Wi-Fi network from the J.D. Williams Library during fall finals week.  Those users accessed more than 3TB of data!
Further, we have added 790 new wireless access points to the campus network.  Over 30% of campus users switched over to V2 Advanced (OleMiss_v2) after connecting to the UM Wi-Fi network.  Discover the benefits of V2 Advanced (OleMiss_v2) and how to take advantage of its new features!
Attendance Tracking Scanner Expansion
During Spring Semester 2013, IT upgraded eleven (11) additional classrooms with attendance tracking scanners in Lamar Hall and Hume Hall.  Instructors can sign up for Automated Attendance Tracking seminars beginning January 2014. Available training dates are 1/16 and 1/21, 2014.  Students, be sure to check with your instructor to see if the scanners will be used in your class.
WordPress Upgrade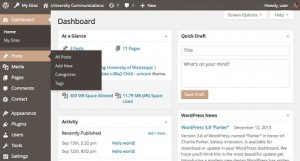 Our WordPress upgrade to v3.8 was completed before the December 2013 break.  Although viewers won't see any visible changes on the sites using WordPress, site admins and content creators will appreciate the re-styled dashboard. This new responsive layout, with better choices for fonts and iconography, looks great and is easier to read – even on smart phones and tablets. There are even customizable color schemes if you want to add some flair to your interface.
The Official OleMiss App for the Android Platform
The wait is over.  Beginning in December 2013, IT staff members and Android enthusiasts across campus began testing the Official OleMiss App for the Android platform.  Get it from Google Play on your Android today!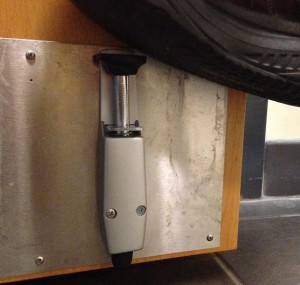 Weir Hall Labs
Last but not least, "chalk this one up" as a small victory for those with lumbar problems (a.k.a., bad back). We have installed plunger door stops on the entrance doors for the Weir Hall teaching labs.   Thanks to an anonymous faculty member for pointing out this need during a conversation, which was overheard by your friendly, neighborhood Deputy CIO!
Important Links
The links below point to information and sites used every day on campus.
Final Comments
If you have additional questions, please contact the IT Helpdesk at 662-915-5222 or helpdesk@olemiss.edu.   You can visit our website for more information or contact us Monday through Friday, 8 AM CST – 5 PM CST.   Go Rebels!
Tags:
IT Enhancements
,
IT Survival Guide
,
Upgrade