Notifications from cell phones can be distracting. Whenever attempting to unwind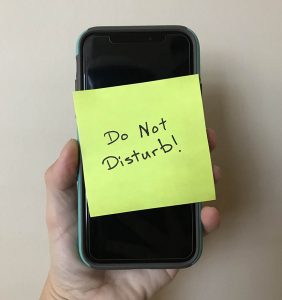 for the evening, loud notifications from devices can become bothersome. To remedy problems with the device providing loud notification sounds, "Do Not Disturb" can be set up so that most sound and vibrations can be stopped for a period of time.
To enable "Do Not Disturb" on an Android or Apple smartphone, follow these instructions:
For Android Users:
Enter device settings.
Enter "Do Not Disturb" into the search bar, or go to Sounds and Vibration -> Do Not Disturb.
From this menu, Do Not Disturb can be enabled.
The recommended way to use Do Not Disturb is to choose the option "Turn on as scheduled," which allows for not only selecting which days of the week, but also, allows selecting start and end times for do not disturb.
If there are specific items that should still provide notifications, the "Allow Exceptions" page can be used to enable notifications for these user selected items (certain calls, messages, reminders, alarms, etc.).
If an alarm should sound during Do Not Disturb, click Allow Exceptions within Do Not Disturb and click "Alarms Only".
See the following link for more information: Android Answers
For Apple Users:
Enter Settings.
Click "Do Not Disturb".
Click the toggle switch to enable Do Not Disturb or click the toggle for "Scheduled" to set specific dates and times for Do Not Disturb to be enabled.
On this screen, you can also configure Do Not Disturb to allow calls from certain callers and for repeat callers.
See the following link for more information:  Apple Support
Note that the Clock Alarm feature for both Android and Apple devices will still sound even while Do Not Disturb mode is enabled.
Don't let your device control your life. Use Do Not Disturb to manage your notifications.