As the fall semester begins, expect more emails disguised as free offers for computers, cures for back pain, amazing job opportunities, and even assistance from Microsoft's Helpdesk.   It is safe to consider the majority of these unsolicited emails as phishing attempts, with the goal of enticing you to click on website links in order to gather all sorts of personal information. It is a serious threat affecting Internet users worldwide.
Behind the scenes, IT has systems in place to reduce exposure to spam, malware, and phishing emails on University networks and systems. Further, for students and faculty with Go accounts, Google provides spam and phishing email filtering. Besides these automated solutions, various IT employees work nights and weekends to manually review and resolve exceptions to improve the security and to reduce our vulnerability to the Internet bad guys.
Unfortunately, no automated solutions can stop all spam and phishing attempts.  Everyone has to participate in securing personal information.
What Can I Do?
Practice these tips to make your "Internet life" safer.
Keep Your Password Safe. Don't trust an email asking you for your password.   Have a complex password. You know this already.
Avoid the Facebook Friend Scam. Having and being a friend makes life worth living. But, the random Facebook friend invitation isn't something to take likely. Check out these Facebook safety tips from the Better Business Bureau.
Improve your Twitter Security.   The security experts from Sophos covered this well. Read and heed.
Don't Click that Link. IT gives some simple tips on phishing detection information. Further reading is available from Apple, Microsoft, and the Federal Trade Commission . When in doubt, don't click the link.
Run Anti-Virus Software.   For university computers, IT offers Symantec licensing for purchase. Avast, AVG, Avira, and Bitdefender are just a few of the popular anti-virus vendors that offer professional solutions for purchase as well as free options for home and student use. You may want to check out the detailed reviews from AV-Test, an Independent IT-Security Institute.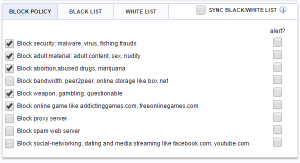 Install a browser filter. For Firefox and Chrome users, consider using a browser extension named WebFilter from CloudACL. While not the end-all solution, the filtering can help protect you from popular, malicious websites and other questionable material, when you mistakenly click a phishing scam link.
But, what if …
It's ok. You're not alone. Faculty, staff, and students can contact the IT Helpdesk at 662-915-5222 if they believe they have a virus, gave away their personal information, and need assistance.   For starters, we recommend resetting your passwords when exposure to your personal information has occurred. In cases involving viruses, we'll need you to leave your computer with us. Please be aware that these anti-virus scans and removal efforts can take several days, depending upon the age/speed of the computer as well as the number of files to scan.
Good luck this semester.   Stay safe.
Tags:
infosec
,
IT Security
,
Phishing
,
Scam