December SAP HANA Migration Schedule for the SAP Production (PRD) System…
The myOleMiss system also unavailable during this time…
The migration dates for the migration of the SAP Production (PRD) System to the SAP HANA in-memory database are rapidly approaching!  The scheduled downtime for this migration will begin at 5 p.m. on Friday, December 18, and will continue through Thursday, December 24.
Remember to Test Your Areas and Report Issues…
The migration of the SAP QAS system to the SAP HANA database is scheduled for the week of November 9-13, 2015.  As part of this migration process, functional users are asked to test their most critical areas of responsibility in QAS beginning on Monday, November 16, and report issues through the SAP Upgrade Issues application by Friday, December 11, 2015.  Any issues reported during PRS (Sandbox) testing should be resolved. Therefore, considering the short window for testing, please concentrate on testing your most critical areas.  It is expected that all testers will perform the testing of their areas/processes in Powers Hall 203, the SAP Training Lab.  Please contact Laurie Richlovsky or Deetra Wiley for available time slots.   Additional information for power users and testers is forthcoming.
Access the SAP Upgrade Issues application by logging into myOleMiss.  => Use the Search to locate SAP Upgrade Issues. => Choose Submit New Issue located in the top right corner of the screen.  => Fill in required and optional fields, attach optional documents, and Submit. Your form will be quickly routed to a member of the IT technical team to begin analysis and resolution of the issue.
Test all of your daily, weekly, monthly, and yearly processes. In prior upgrades, some issues that were overlooked during the testing phase of the upgrade surfaced in processes that were executed only once or twice a year. Involve additional people from your area in your acceptance testing process.  Those who work with particular processes on a daily basis generally are the best testers.
Testing is important when introducing new functionality or performing a major upgrade. By making a personal commitment to testing your areas of responsibility, you can help the University achieve a smooth and successful upgrade.
SAP Password Reset…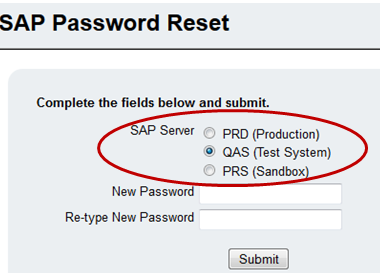 If needed, you can reset your password by logging into myOleMiss. Use the Search in myOleMiss to locate SAP Password Reset.  You may also visit https://www.olemiss.edu/sappassword which will prompt you to log into myOleMiss.  Upon logging in, you will be taken to the SAP Password Reset application.  Select the SAP Server or system (PRD, QAS, or PRS) for which you would like to change your password.  This will be your temporary password for logging on to one of the SAP Servers through the SAP GUI.  Please note that you will be prompted to change your password after logging on to the SAP Server (via the SAP GUI) with the temporary password.
Assistance?
For questions or further assistance, please contact sap@olemiss.edu or the IT Helpdesk at (662) 915-5222.
Tags:
myOleMiss
,
PRD
,
QAS
,
SAP
,
SAP Hana
,
Ugrade