Are you looking for ways to enhance your technology skills, learn about various subjects, study different languages, find extra study materials for a class, etc.? Try iTunes U. According to Apple's Web site, there are more than 250,000 free lectures, videos, films, and other resources from universities and public learning institutions that are available on iTunes U. Download a podcast on Jazz Insights, watch a Saturday Morning Physics video, or listen to a series of French podcasts to learn a new language. Whatever your area of interest, iTunes U is likely to have a podcast that covers it.  iTunes U can be accessed from any computer with a network connection and the download of the  free iTunes software.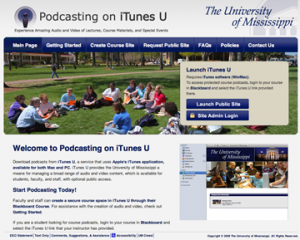 Last fall, the University of Mississippi joined the iTunes U community with the launch of The University of Mississippi on iTunes U, which provides the University a means for managing a broad range of audio and video content that is specific to our institution. Faculty and staff can utilize this system to create and post recordings of ongoing and one-time events, such as lectures, talks, and panel discussions. Members of the university community and general public can then listen or subscribe to the available podcasts through the Public Site link at our custom iTunes U Web page.
In addition to providing a public presence for the University, iTunes U also has a private component.  It is this private area of iTunes U that is of the most benefit to instructors.  A UM instructor can elect to have a private iTunes U course site that can only be accessed by the students in their class.  This gives the instructor the ability to post audio or video podcasts of in-class lectures or other relevant materials.  Any instructor can set up a private iTunes U area by enabling an iTunes U link within their Blackboard course. Their students will then be able to access the iTunes U area of that course through the link within Blackboard.   For instructions on creating a private iTunes U course site, view Directions for Creating an iTunes Course through Blackboard.
Currently, the University of Mississippi on iTunes U has publicly available podcasts of the Campus Tour, ServiceDNA videos created during the Chancellor's Inauguration, the National Food Service Management Institute's "Cooks for Kids" series, and more.  In addition, there are more than 20 courses with private course iTunes U sites.
Interested in learning more about iTunes U?  Contact the Faculty Technology Development Center at ftdc@olemiss.edu for assistance.
Tags:
Blackboard
,
iTunes U
,
Podcast