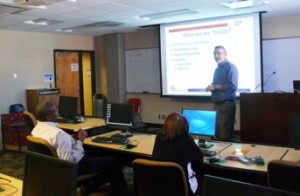 Since 2005, select University employees have been required to participate in security awareness training.  In the past, these required sessions have taken place in a classroom/lecture format.  As of September 17, 2012, the University has partnered with the SANS Institute to offer online security awareness training.  The online training modules are organized to train specific groups such as SAP GUI users, Information Technology specialists, and others.  Online training modules will need to be completed by all SAP GUI users on or before December 21, 2012.  If training is not completed by this deadline,  SAP accounts will be locked until this requirement is met.  (Once the requirement is met, email will need to be sent to IT Security to unlock accounts.)
About SANS Institute
"The SANS Institute was established in 1989 as a cooperative research and education organization. SANS is the most trusted and by far the largest source for information security training in the world. Courses are taught by real-world practitioners who are the best at ensuring you not only learn the material, but that you can apply it immediately when you return to the office" ( www.sans.org).  "The online training we chose through SANS is a standardized presentation that covers in depth security awareness issues," says David Drewrey, Director of Telecommunications/Security Coordinator.
Importance of Security Awareness Training
The purpose of security awareness training is to raise awareness, change behaviors, reduce risks, and educate those who handle sensitive data on computer networks, systems, etc. "Security awareness training is important for users to know the dangers that exist as well as the mitigation techniques and best practices in online communication," says David Drewrey.  "Examples of scenarios that can occur due to non-security awareness are computer viruses, malware, identity theft, spam, phishing, exposure to criminal elements, etc."
SAP GUI Users and Select Employees
All targeted groups for security awareness training will start receiving email from IT Security on September 17, 2012.  The subject line will be "University of Mississippi SAP Security Awareness Training Account."  The email will provide your login information to the training modules.  Once you log in, you will be required to reset your password.  Here's a sample of the communication that will be forthcoming:
Dear (User's Name),
 All University of Mississippi SAP GUI users must attend a security awareness presentation every two  years to become aware of the latest security issues and techniques available to protect university data.  Information Technology has purchased online training from SANS (www.sans.org), which users can view and complete at their own pace.  These modules must be completed by December 21, 2012 in order to retain access to SAP.  The SAP GUI accounts belonging to those who have not completed security training by the indicated deadline will be disabled.  Others who deal with sensitive data as part of their jobs are strongly encouraged to complete the training.
A security awareness training account has been created for you and you have been issued with a temporary password.
Your login information is as follows:
Username:   WebID@olemiss.edu
Password:   initial_password
                      (You will need to change your password when you log in the first time.)
To start using your security awareness training account, log in at:  https://vle.securingthehuman.org/login/
In most mail programs, this should appear as a blue link which you can just click on.  If that does not work, then cut and paste the address into the address line at the top of your web browser window.
Once you have changed your password, please click on Quick Start Introduction to receive instructions.
Thank you,
David Drewrey
Director of Telecommunications/Security Coordinator
davidd@olemiss.edu
Duration of the Training Modules
Each of the training modules is approximately 3-5 minutes in length; the entire training is approximately 1 hour.  You can complete these modules at your own pace, just as long as all is completed by the December 21, 2012 deadline.  The system automatically saves and keeps track of your completed modules.
Non-SAP GUI Users and Other UM Employees
For non-SAP GUI users and other UM employees, you can register for the classroom security awareness training or request online training.  We can accommodate up to 400 additional users in the online training.  You are not required to attend this training, but it is highly recommended.  For available classroom security awareness training dates, please visit https://ittraining.olemiss.edu/ or contact David Drewrey at davidd@olemiss.edu.
More Information
Security training reminders will be sent via UM Today.  All questions about security awareness can be directed to davidd@olemiss.edu.
Tags:
infosec
,
IT Security
,
Security Awareness
,
Security Awareness Training
,
Training
,
UM Information Security