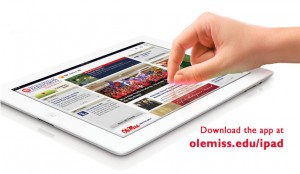 In April, the University of Mississippi (UM) conducted a survey on the Official Ole Miss App ~ iPad Edition to gauge initial reactions and to gather input for future enhancements to the app. The survey was open to students, parents, employees, alumni, fans and other interested individuals who were age 18 or older. To be eligible to win, survey participants were required to provide their email addresses. A total of 881 responses were received. UM gave away ten $100 Apple Gift certificates as incentives for completing the survey. The ten winners were selected randomly. Information Technology and University Communications employees were not eligible to win.
Congratulations to the following survey winners:
Margaret Strudwick , Baltimore, MD,  Parent of UM Student
Spencer Harpe , Richmond, VA, UM Alumnus
Vanessa Alsobrooks, Oxford, MS,  UM Student
Elizabeth Milner,  Bay Saint Louis, MS, UM Student
David Ferguson, Pontotoc, MS , UM Employee
Brad Solomon, Lucedale, MS, UM Alumnus
Whitney Thomas, Greenville, MS, UM Student
Neville S. Vanderburg, Olive Branch, MS, UM Alumnus
Patrick Carr, Oxford, MS, UM Student
Ian M. Whalen, O'Fallon, MO, UM Student
We extend a sincere thank you to all of the survey participants.  The responses have been very, very helpful in planning next steps for the app.
If you have any questions regarding this survey or the Official Ole Miss App ~ iPad Edition, please contact the Office of Information Technology at (662) 915-7206 or it@olemiss.edu.
Tags:
Apple
,
iPad
,
Mobility