Updated 3/5/19
Forgot your SAP GUI password?  The SAP password reset interface allows users to reset their SAP GUI password for SAP PRD (Production), QAS (Quality Assurance), and PRA (Sandbox).  If your account is not locked, there is no need to call the IT Helpdesk to reset your password.
How Do I Reset My SAP Password?
You can reset your password by logging into myOleMiss. You can reset your password by logging in to myOleMiss => Click on the Employee tab  => Expand the Resources for SAP Users app group => Select SAP Password Reset. Or, use the Search in myOleMiss to locate SAP Password Reset. Another option is to  visit https://www.olemiss.edu/sappassword which will prompt you to log into myOleMiss to be automatically directed to the SAP Password Reset interface:
1. Select the system (QAS, PRD, or PRA) for which you would like to change your password.
2. Enter your WebID (myOleMiss) Password and click Submit.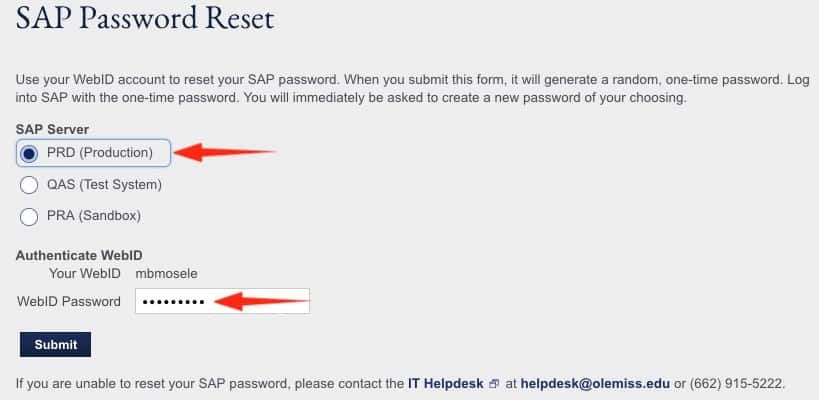 3. Test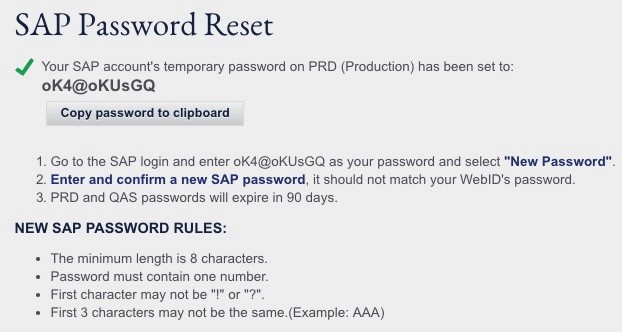 4. Proceed to log in to SAP GUI with your temporary password. After logging in to the SAP server, you will be prompted to
create a new password that will be valid for 90 days.

What If My SAP Account Is Locked?
Locked SAP accounts may be due to:
Multiple login attempts with the wrong SAP username, password or a combination of both (Note: Before making numerous login attempts, go ahead and reset your password to avoid account becoming locked.
SAP account has not been used in 90 days
Request by your department due to resignation, inappropriate use, etc.
If your account is locked due to multiple login attempts or non-use within 90 days, you will need to contact the IT Helpdesk at (662) 915- 5222 or helpdesk@olemiss.edu to unlock your SAP GUI account.
Tags:
SAP Password Reset
,
Self-Help