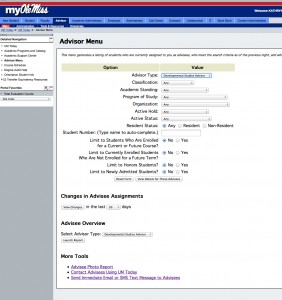 Over the past year, it has become clear that employees who supervise certain kinds of student programs need the same kind of access to student data that academic advisors have had for many years. Examples are employees who supervise developmental courses, student athlete advisors, and FASTrack counselors. Moreover, these staff members, as well as academic advisors, need a broad view that gives the full picture of what is going on with a particular student in order to provide the best possible support.
SAP Student Lifecycle Management (SLcM) provides the capability to configure multiple advisor types. Up until this summer, we have used one advisor type only – academic advisor. This summer, we added configuration for new advisor types such as FASTrack, Faculty Mentors, Athletics, Luckyday, and Contractual Re-admit. These new types have their own notes and, where appropriate, their own holds. All advisors can now see all note types from within the "Advising Snapshot."
With the new advisor types come several changes and new features in the advisor interfaces within myOleMiss. Highlights are as follows: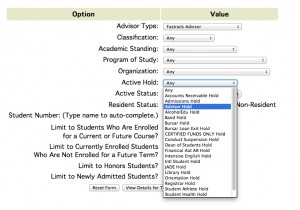 There is now one consolidated "Advisor Menu." Note that you can go straight to this launch point by selecting "Advisor Menu" from the Site Index on the left-hand navigation pane within myOleMiss. For faster access, you can add this to Portal Favorites by selecting the paper icon in the upper right. This consolidated menu replaces several options that formerly were listed on the left, e.g., My Advisees.
In the previous version, all advisees were listed in sets of 100 with no opportunity to filter or go straight to a particular student. Now you can select advisees based on several filter options such as classification, academic standing, whether a hold exists, etc. Also, you can go straight to a student using name auto-completion.
One of the filter options allows you to select advisees who are registered for a current term but not for a future term. We hope that this will help advisors and support staff spot students who have not yet registered. Be aware that this data is cached and is accurate as of the previous night.

There is a new option in the drop-down menu called "Blackboard." This lets advisors see grades that have been posted in Blackboard for current and recently completed courses. It also lets advisors see how a student ranks relative to other students in the class.
Course materials (textbooks) and Favorites have been added to the Schedule listing.
The "Send Immediate" and UM Today interfaces have been adjusted to let you send to advisees by advisor type. Likewise, "Advisee Overview" has been adjusted to filter by advisor type.
Other features that are planned include the ability to upload documents for a given student, a simple degree audit report, and a new "at risk" status. Please send any additional suggestions to it@olemiss.edu.
Tags:
advising
,
myOleMiss