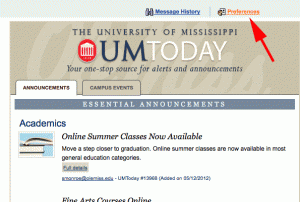 Summer is almost here and, if you are not teaching or enrolled in classes or if you are traveling, you may want to disable the daily UM Today email summaries.
To do this, sign in to myOleMiss and choose "Preferences" from the upper right of the UM Today listing. Once here, you should see an option to set your UM Today email format. You can set it to text-only, mobile-friendly, or you can disable the messages altogether. The default, HTML format, includes all of the graphics and menus that display best from a computer with a Web browser. Note that this menu also lets you prioritize your messages within the UM Today listing and even suppress messages by type.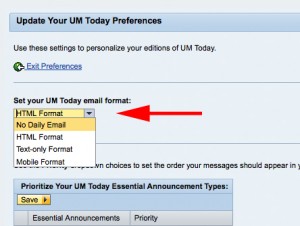 You can view UM Today messages anytime from myOleMiss. Although disabling the daily messages may give you some email relief, keep in mind that you may miss important announcements by doing this.
Tags:
Email
,
UM Today