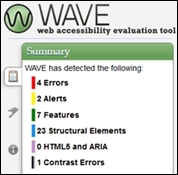 Learn more about developing accessible websites for students, staff, and faculty with disabilities by attending virtual conference sessions.  The Accessing Higher Ground Virtual Conference focuses on the implementation and benefits of Accessible Media, Universal Design and Assistive Technology in the higher education setting.  There are numerous sessions on best practices for web design, reaching untapped audiences through accessible design, and compliance with federal rules regarding Section 508 and the ADA.
Sessions of interest in this area include:
The Offices of Student Disability Services and Online Design and eLearning are co-sponsoring the twenty-four sessions during the November 6-8 virtual conference.
The virtual conference is open to everyone, but registration is required.  Visit the ODeL Webinars website for a list of available sessions, dates and times.  Sessions prefaced with AHG are part of the Accessing Higher Ground Virtual Conference Sessions.  Sessions will be offered in two locations on campus: Martindale Hall, Room 234 and Kinard Hall, Wing F, Room 372.  Please note the location of the session you will be attending when registering.
For questions, please contact Online Design and eLearning at 662-915-1267 or Student Disability Services at 662-915-7128. View related TechNews articles on Accessibility:  Accessibility and the Classroom, Making the Web Work for Everyone, and  Important Reminder: Compliance with UM Accessibility of Technology Services Policy.
Tags:
Accessibility