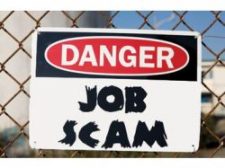 There is no shortage of fake jobs. Employment scams are commonly designed to steal your personal information, credentials, and money.
Many of these schemes involve virtual assistant, secret shopper, or similar work-at-home positions, often along with receipt of fake checks.  The scammers typically try to build trust over several different communications (including social media, calls, text, email, or postal mail).  They may even seem to be affiliated with actual trusted companies, advertise where real employers and placement firms do, and use convincing promotional materials such as fake or phishing websites.
Think twice before responding to unsolicited or suspicious recruiters and independently research any job opportunities which ask you to pay out of your pocket.  If you are affiliated with the University and believe that you have been the victim of fraud, contact the University Police Department, then file a report with the FBI Internet Crime Complaint Center (IC3).
Resources
Example Emails
Dear Applicant,

We received your application, you have been considered for employment, you are to occupy the position of Virtual Assistant available.

PRIOR TO BEEN EMPLOYED PLEASE NOTE YOU MUST ALWAYS ACKNOWLEDGE ANY EMAIL OR TEXT RECEIVED FROM US.

HCI GROUP provides a full range of integrated facility across Canada and United States, and it is expanding its training centers across the States, a need for a good and reliable virtual assistant that can work with team manager is of necessity. I want you to read through the company website so you can have a better understanding about the company.

This position will be home-based and flexible part time/full time job. Your duties as virtual assistant will be running personal errands, performing various administrative tasks, including answering emails, scheduling meetings, booking flights and appointments, Handling cash and deposits, receiving calls, purchasing supplies and attending to clients. You are to start immediately.

You are to respond with the below information. After we have received your information you will be placed on a week trial, during which your pay will be $300 per week. Details will be sent after you must have returned the information below.

Full name:
Valid Address:
City & state:
Zip code:
Date:
DOB:
Valid Cell Phone #:
Are you currently employed? If so state your job and your current working and free hours:

When we receive the above information, your first assignment will be relayed via email and how it should be conducted. Be rest assured that your information requested is needed for our company's database as an employee and will not be disclosed to a third party. We will send your package for your first assignment this week. which will contain your paycheck and instructions for a week trial after which you will be sent an employment after completion of your trial. You will then print out and fill then send back to me.

Thanks in anticipation of your prompt response.
http://www.thehcigroup.com

---

Syntel has recently connected with Ole Miss through Handshake in search of Virtual Assistant who are seeking part or full-time employment. They have been in the software development business since 1980, are headquartered in Troy, MI, and have offices across several cities in the USA. Most of their services are in the US with some in Europe.

They are hiring in all locations across the states and access to physical locations with a 7-week intensive training on full-stack development in their training facilities based in Phoenix, AZ and Collierville, TN. Once you apply, you will be placed on a week trial. which you will be communicated on what to do.

As a Virtual Assistant, you will perform various administrative tasks, including answering emails, scheduling meetings and making travel arrangements.

After you must have passed your trial you will be allocated to any of the locations below or you may continue to work online if you wish:

1. Phoenix, AZ
2. Boston/Quincy, MA
3. Memphis, TN
4. Nashville, TN
5. Pittsburgh, PA
6. Louisville, IL
7. Portland, OR
8. San Diego, CA
9. San Jose, CA
10. Atlanta, GA

All the positions are part and full-time with benefits including relocation. Hired candidates will be provided 7 weeks of training with full pay. If you are interested in applying, please hit the reply button indicating your interest with your cell number to reach you by text or call.

This email is being sent on behalf of The University of Mississippi. If you do not want to receive these emails, you can unsubscribe from emails from The University of Mississippi
If you do not want to receive any mass emails from Syntel, you can unsubscribe from all emails P.O. Box XXXXX, San Francisco, CA 94140
Tags:
infosec
,
IT Security
,
Scam