Welcome! The Office of Information Technology (IT) has been busy preparing  for new and returning faculty and students. Below are some of the important changes we made during the summer along with links to common websites and informative TECHNews articles.
SAP Grants Management
To provide enhanced oversight of research funding, the University implemented an additional component of its SAP enterprise resource planning system, SAP Grants Management (GM).   The project, which was co-sponsored by the Office of Research and Sponsored Programs and the Vice Chancellor for Administration and Finance, was led by the Office of Information Technology and the Accounting Office.   The official SAP GM launch date was July 1, 2014.
Attendance Tracking
During the summer, IT deployed sixteen (16) attendance tracking scanners in Bishop Hall, Bryant Hall, and the Music Building.   As a new innovation in attendance tracking, Ford Center for the Performing Arts and IT jointly developed a solution for checking attendance during academic events held at the Ford Center.   In short, instructors who require student attendance at Ford Center events in the fall may request the use of attendance tracking .  Upon arrival at the Ford Center, the students will visit one of five mobile scanning kiosks to scan their IDs for the event.  The scanned information is automatically linked to the event, allowing the instructor to easily monitor participation.  Stay tuned for more details.
Instructors may sign up for Automated Attendance Tracking seminars in August.  Available training dates are 8/21 and 8/27.  Also, instructors may contact the Faculty Technology Development Center (FTDC) at 915-7918 for one on one training.  Students, be sure to check with your instructor to see if the scanners will be used in your class. Visit attendance.olemiss.edu to learn more about attendance scanning at Ole Miss.
Campus Map
The online campus map has been completely reworked with detailed building artwork and a new mobile-friendly layout. The new system, built on Google Maps and developed by CampusBird, allows us to quickly highlight areas affected by construction or focus on Orientation or Commencement locations. You can even glimpse the future with the new arena and parking garage shown in their finished state!
Weir Hall Labs
IT made multiple improvements in the Weir Hall Student and Mac Teaching labs.  In the Weir Hall Student Lab, all PCs were upgraded with new SSD drives and double the memory, resulting in significant speed improvements.  The 115 Weir Hall meeting room was enhanced with a 4′ by 10′ glass white board.  In the Mac Teaching Lab, IT worked with Facilities Planning to expand the seating from 12 to 15 seats!
myOleMiss
The myOleMiss portal provides various online services to students, such as creating course schedules, viewing mid-term/final grades, and requesting unofficial transcripts just to name a few.  IT developers and analysts are busy working on a new responsive design for the myOleMiss portal.  We're planning on a fall release.  In the mean time, you might find these navigation tips very useful.
Box Enhancements
We recently published a TECHNews article highlighting the technical enhancements we made to UM Box over the Summer. Recently, the University signed an agreement which will give us HIPAA compliance on UM Box.  While the agreement requires Box to meet both FERPA and HIPAA compliance requirements, UM employees must continue to be vigilant in protecting sensitive data and setting appropriate permissions on files according to their sensitivity.
Distance Learning
Outreach IT working with IT Classroom Technology completed the necessary distance learning enhancements to two classrooms in North Hall as well as 11 Conner Hall.   Instructor training on the new technology has begun, and we are excited about the enhanced classrooms as we continue to expand our use of Adobe Connect.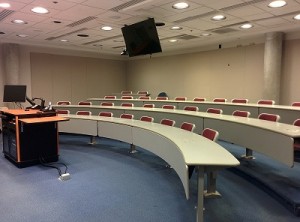 Campus Network Enhancements
All of the enhancements mentioned above put additional demands on our campus network.   IT Networking and Telecommunications continued their ongoing network infrastructure upgrade over the summer.  In a recent Huffington Post article, the University of Mississippi  (UM) appeared in the "Top 5 for Upload Speed" when comparing network performance across state flagship universities.  As for UM Wi-Fi, we still recommend OleMiss_V2 for a secure connection, and where you can avoid having to log on again and again.   Besides that, UM Wi-Fi supports Eduroam, which allows you to use your UM WebID to log on to other participating university Wi-Fi networks.  Before your schedule gets too busy, take a moment to learn more about UM Wi-Fi.
Learning Management System (LMS) Review
In April 2014, the Instructional Technology Standing Committee (ITSC) was charged with leading an evaluation of the different LMS offerings in order to select the platform that will be in place at UM for the next five (5) years.  A Request for Information (RFI) was issued in July, and we expect responses from vendors by mid-August.  As the ITSC begins their LMS review, opportunities for instructors to attend demonstrations, evaluate solutions, and pilot the available LMS offerings will be announced in the fall.  ITSC has established a timeline for the evaluation and selection process, to be completed by February 2015.
Academic Accessibility
With support from the Division of Outreach and Continuing Education and Information Technology, an Academic Accessibility unit within IT was approved by the Provost's Office.  This unit will initially be funded with one position, namely the Accessibility Coordinator.  Once on board, some of the specific accessibility duties of the Coordinator will include developing procedures to provide captioning support for academic units, collaborating with instructors to identify and resolve barriers to full participation in the curricular environments, and participating in the training effort that enables instructors to make digital information accessible.  The new position is being advertised with Educause in August, and further announcements will be made in the fall.
Links and TECHNews Articles
The links and articles below point to information and sites used every day on campus.
Final Comments
If you have additional questions, please contact the IT Helpdesk at 662-915-5222 or helpdesk@olemiss.edu.   You can visit us in Weir Hall, Monday through Friday, 8 AM CDT – 5 PM CDT.   We hope you have a great semester!
Tags:
Classroom
,
Enhancements
,
IT
,
Network