Ninety-four faculty members received new computers as part of this year's TACIT program.   Now in its twelfth year, TACIT provides for the cyclical replacement of faculty computers and is sponsored by the Provost's Office and carried out by the Office of Information Technology (IT). Faculty members are given the choice between desktop, laptop, PC, and Mac. This year's numbers were as follows:
# PC Desktops: 35
# PC Laptops: 19
# Apple Desktops: 13
# Apple Laptops: 27
As part of the program, faculty members attended three or more training sessions, including a general session that covered technology topics currently of interest. See the full listing of this year's TACIT training sessions. The general sessions took place the week of October 25 and included lots of good discussion, which is summarized below for the benefit of any who may also be interested. See https://www.olemiss.edu/depts/it/TACIT2010.pdf for discussion slides.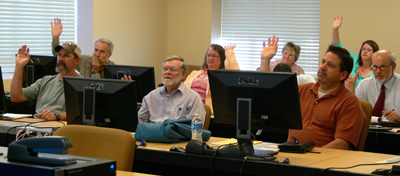 Cell Phones as Clickers
What is the possibility of cell phones being used as clickers instead of separately purchased clicker devices? Several small private schools have had success in using iPhones and iPod Touch devices as clickers (see http://chronicle.com/blogs/wiredcampus/mobile-college-app-turning-iphones-into-super-clickers-for-classroom-feedback/4434). The problem is more challenging in an environment like ours where many different kinds of devices are in use and not all students have smart phones with data plans, but this is an area that we are watching closely. We have begun brainstorming on how we might be able to record attendance for classes and performances using the GPS capabilities of cell phones and the HTML 5 standard.
Cell Service in Oxford and on the UM Campus
Help is on the way for AT&T cell customers who live near the intersection of HWY 7 and HWY 6. AT&T is constructing a new cell tower in that area and expects for work to be completed by the end of November.
With regard to on-campus service, UM has partnered with a company called NextG Networks to install a vendor-neutral Distributed Antenna System (DAS). A DAS is a network of small antenna nodes connected by fiber to a head-end. DAS technology has been used with great success in airports, malls, cruise ships, etc. and is beginning to gain popularity on college campuses with the first NextG university customer being Notre Dame.
We had hoped to have the DAS up and running by the start of football season, but establishing the first contract between NextG and AT&T has taken longer than expected, not only for UM but also for a number of other major universities. Most of the issues have been resolved and the designs approved. Phase one of the DAS project will include the football stadium, the Holman / Conner complex, the Ford Center, and the Grove. Plans are underway for Phase 2, which will address the northwest side of campus including the Mall area either by means of a new cell macro site (tower) or an extension of the DAS.
Mobile Blackboard
Both students and instructors have expressed interest in a mobile interface to Blackboard. Blackboard launched a free version for Sprint users earlier this year and is now making available a device-agnostic version for an additional licensing fee. UM is watching this closely and, with other universities, is requesting that Blackboard provide affordable licensing options.
Sending E-mail from Off-Campus
One of the most common questions that comes to the FTDC and IT Helpdesk is how to send e-mail from off-campus when you are not using a Web-based client such as Webmail. This requires a Virtual Private Network (VPN) client and account, which all employees already have. See https://vpnhelp.olemiss.edu/ for instructions on downloading the client and using VPN from an iPhone. Login to VPN with your WedID and password.
Student Use of E-mail
IT is upgrading the Microsoft Exchange environment which has provided calendaring services for employees in the past. In the future, this platform will provide e-mail and calendaring services for all UM employees. Calendar users have already been moved over, and other employees will be moved over in small groups over the next few months. In parallel, IT has been looking at Google mail for students. Several discussions with ASB leaders took place this summer, and a test platform has been established.
In the TACIT general sessions, faculty members expressed opinions both for and against outsourcing student e-mail. Some expressed enthusiasm about the possibility of using Google Apps for Education, whereas others expressed concerns about e-mails getting caught up in spam filters, being able to confirm that students receive e-mails, etc. There will be many more discussions with key groups from around campus before making a final decision. Separating out employee and student e-mail is an important first step.
In several of the general sessions, faculty members expressed dismay over the fact that students don't seem to read e-mail. This is a common observation at other universities too and is part of the motivation for providing SMS text messaging as a new way for instructors and advisors to reach students. Right now, instructors and advisors can send text messages from the Ole Miss Today interface, and over eighty people have used this feature since it was first made available in late September. During Thanksgiving week, additional links will be added to myOleMiss to provide a one-step method to send text-only e-mail and SMS text messages.  A mobile equivalent is also in the works.  One thing to keep in mind is that text messages only go to the students who have opted in to receive them.
Student Use of the Network and Bandwidth Issues
One of the technology services most affected by increased enrollment is wireless access and overall available bandwidth. A specific example is the increased use of video streaming services such as Netflix on Demand by students in residence halls. Currently, the campus network is partitioned into three segments: research, general office, and residence halls. Network policies are in place to give priority to each segment and to certain types of traffic. In the evening, after 6 pm, more bandwidth is shifted to the residence halls. This fall, IT purchased more commodity Internet bandwidth. The IT network group is continuing to monitor this situation closely and is adjusting network policies in response to user feedback. Any faculty members who are experiencing bandwidth limitations in their offices or in classrooms should send details to ftdc@olemiss.edu.
Faculty Activity Reports
A Faculty Activity Report Task Force was established in June by the Provost's Office and is being chaired by Dr. Maurice Eftink. The task force made a key decision in July to continue with a structured database model for reporting completed activities. The next major decision will be whether to continue with a home-grown solution or move to a commercial product such as Sedona (https://sedonaweb.com/i/index.cfm) or Activity Insight by Digital Measures (http://www.digitalmeasures.com/ActivityInsight/).
The current system will be used in Spring 2011 and is being updated based on feedback from the FAR Task Force. In each of the general sessions, faculty members previewed the new screen layouts for entering activities and offered comments based on past experiences. The feedback on the new layouts was generally positive with the caveat that they really need to be able to try them out before making a final judgment. Faculty members noted the following as problem areas from past years: deleting activities, understanding the role of and managing activity dates (which affects the roll forward of activities from previous years), too many windows opening up, and reporting grants that fall outside of ORSP processes. Related topics included standardizing on reference software such as RefWorks or Zotero and then having interfaces to import research activities from that environment, using faculty activity report data to automatically populate tenure and promotion dossiers, and moving to a calendar year for reporting activities, which most thought would be helpful.
Tags:
Blackboard
,
Faculty Activity Reports
,
TACIT
,
VPN