A couple of months ago, the new myOleMiss interface for creating activities to be included in Faculty Activity Reports opened. This roll-out included new tabbed layouts and numerous other small changes to simplify and make the process more user-friendly. (See the December 2010 TechNews Article.) Last week the rest of the interface for creating and editing your Faculty Activity Report was made available.
You may add research and creative activities all year long, but your report will only be available for editing during the spring semester. When you create your activities in the database throughout the year, it is like putting a file in a folder to be added to your report at a later time. Then once it's time for the report, you pull out your file folder and add all those things into it.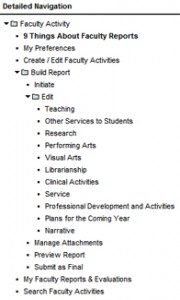 Once your activities have been added, building or editing your report is simple as the activities that you have already entered into the database will be automatically added your report, as well as your courses, advisees, theses and dissertations, and committees. On the Detailed Navigation menu on the left, under the Build Report folder you will find an Edit folder that expands to show the various categories. Once a category is chosen, you will see a page with a list of subcategories that can be expanded to enter information relevant to your report.
Some categories, like Research, have several subcategories where activities (such as journals and conferences) that you entered into the database will be listed. In these areas you have several options – viewing, editing, and omitting.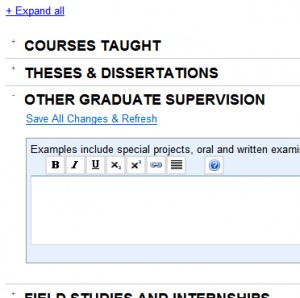 If you would like to see more information about one of the activities, simply select the linked title of the activity to expand information boxes, which are formatted to look as closely as possible to the final report. You will also notice that, once expanded, there is a link that will allow Editing of this particular activity. Please note that these activities will be refreshed automatically in your report if you make any changes.
The project dates on the activity determine whether the activity will be included in the report for a given year. That is, if the project start and end date for the activity overlap with the reporting year, then the activity will be included. You may choose to omit activities that are not relevant to your report by checking the box to the left of the activity title and then saving all changes. You can know that it is omitted when the background of that entire activity becomes gray. Alternatively, you can update the project dates for the activity.
You may preview your full report at any time, by selecting Preview Report on the detailed navigation menu on the left.
Getting Help

A training workshop on the new interface will be offered on Friday, February 25th at 1:30 pm. To register, go to http://ittraining.olemiss.edu. If you need assistance with the new layout or if you have any questions, please contact Faculty Technology Development Center at 915-7918 or ftdc@olemiss.edu. If you would like individual assistance in person, drop by FTDC in 101 Weir Hall weekdays between the hours of 8:00 am and 5:00 pm.
Tags:
Faculty Activity Reports