Would you like to access Blackboard from anywhere?
Now there's an App for that.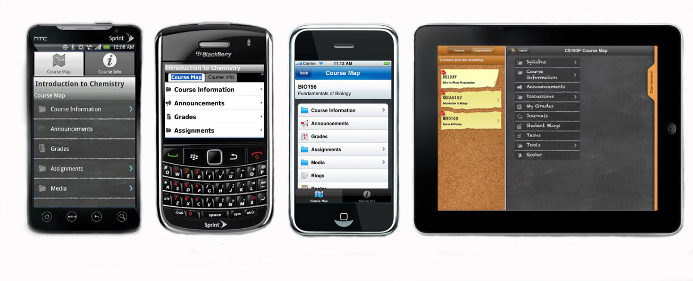 Introducing Blackboard Mobile Learn
at The University of Mississippi
The Office of Information Technology is pleased to announce the launch of Blackboard Mobile Learn, a free mobile application that brings interactive teaching and learning to mobile devices and gives students full access to their Blackboard course information directly from their smartphones. This intuitive application, designed specifically for each of the major mobile platforms, allows students to check grades and assignments, view documents, create threaded discussion posts and comment on blogs and journals, upload content, and more. Instructors can use the app to post announcements, create blog and discussion posts, comment on their students' blogs, discussions, and journals, and upload media files.
Blackboard Mobile Learn is available on the iPhone, iPad, iPod Touch, Android devices, BlackBerry smartphone devices, and HP web OS devices, and works over Wi-Fi, as well as all cellular networks.  The Mobile Learn app may be downloaded for free at the appropriate device App Store.

For more information on how to download the Blackboard Mobile Learn application for your device, visit the Blackboard Mobile Learn Help Page.
For additional support or questions, contact the Faculty Technology Development Center at 662-915-7918 or blackboard@olemiss.edu.