Transcript requests have recently been added to the mobile-friendly version of the myOleMiss portal.  Students can conveniently request official and unofficial transcripts on their mobile devices by visiting myOleMiss and selecting the request a transcript link in the list of mobile friendly myOleMiss services available to them.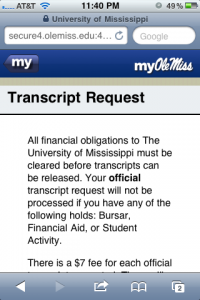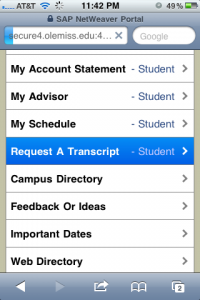 This service is consistent with the transcript request service in the full version of myOleMiss:
You cannot request a transcript if you have holds on your records.
You can choose from an address on file to have the official transcript sent to or specify a different address.
The fees applicable to official transcripts and having transcripts faxed to you are the same.
You can download an unofficial transcript to your mobile device.